When Sea-kayaking in the Faroe Islands, it is very important to make a good plan where you take the Tides, Swell and the weather conditions into account, when planning a trip.
The tides / flood comes in from the vest and pushes between the islands and also, which gives a bunch of tidal races where the tides accelerate over shallow areas, headlands, between islands and the tips of the islands.
The weather is very dynamic and is changing constantly, and therefore it is extra important to have a good look at the forecast and be conservative when planning. since we have islands the wind also accelerates between islands and over mountains. It can in local places be much stronger than the forecast is indicating.
The combination of strong currents, that are flowing together or over a shallow point, and the wind direction and strength, will make the conditions very rough in places.
Adjust your plans daily, have backup locations if the wind direction is not favorable for paddling in a specific area.
---
Tidal info
All tidal planning in the Faroe Islands is centered around High tide (slack after vest flowing streams in Suðuroyar Fjørður)
Online tidal tables:
Tidal tables for different areas, no explanation and no map.
https://portal.fo/vestfallskyrrindi
Another great Online Tidal, Swell and Weather-forecast info from the Danish Defense sejladsudsigt.dk/fcoo.dk covering for the Faroe Islands below: (Greenland, Iceland, Denmark, Global and the Mediterranean maps/Forecasts also covered.)
Sejladsudsigt.dk / FCOO.DK – Sailing forecast for the Faroe Islands
Danish Metrological institute has some online tide time tables in UTC:
great source to se the tidal range, however the direction of flow, using local almanacs is prefeared.
Local almanacs
Two different versions out there they provide approximately the same info such as tide tables and tidal charts.
I recommend that you get one of the Local almanacs, it is possible to buy online in various webshops, or you can pick it up at selected shops and Gas stations.
https://bokhandil.fo/shop/almanakkin-2022-heftur/
https://bokhandil.fo/shop/skipalistin-2022-heftur/
The almanacs have the relevant tidal table and it also has a map of each hour, that describes how current behaves for each hour in a 12 Hour cycle.
It is very handy for planning to se where not to be at any given time.
And how you can use the tidal streams to your advantage.
here is an example from the book of hour 6 after HighTide/Flod (Vestfallkyrrindi in Suðuroyarfyrði) so here it is "EK" (Esystfallskyrrindi/slack after east flowing tide in suðuroyarfyrði)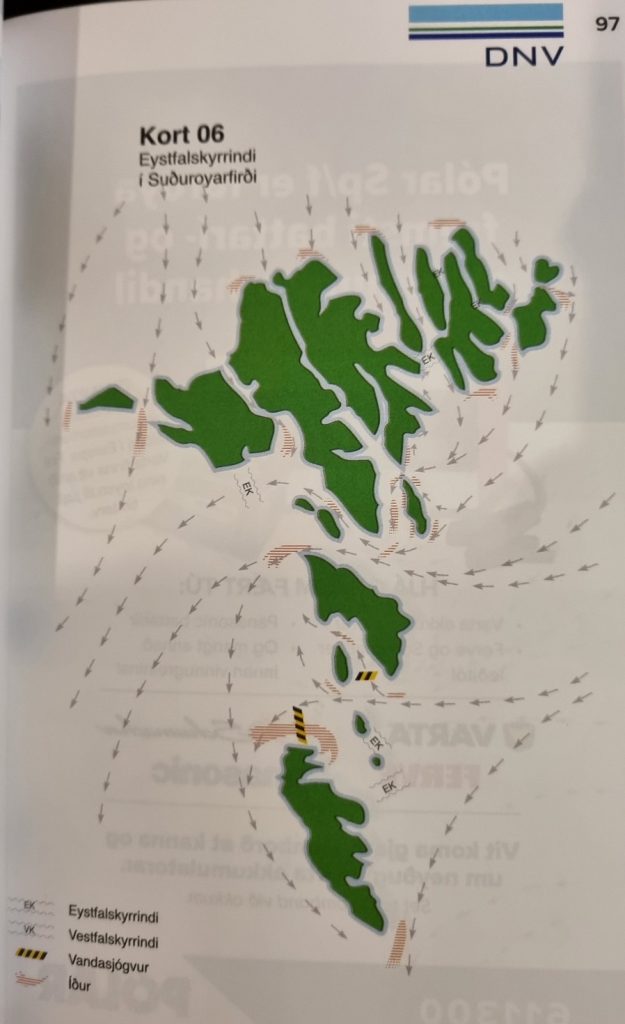 Translations:
EK: Slack after East flowing tides
VK: Slack after vest flowing tides
Vandasjógvur: Dangerous Sea
Íður: Tidal races and tidal streams that run together
Swell/Wind
The Faroe Islands is very exposed to the ocean swell of the north Atlantic. therefore it is one of the most important factors to take in considerations when planning your daily paddle. you can find swell readings online at: lv.fo/landsverk.fo by selecting "Alda" on the map located on the front page you can also get real-time wind measurements from many locations, this is very useful to verify your selected weather-forecast and to se how the wind behaves locally, and to analyze how the wind direction changes to adapt to the landscape. you can also se more detailed info on average wind and windgusts.
se examples below:
Rák Mobile app for Android and Apple IOS
A very good and precise app to se the tidal flow and here you can also se the tidal speed in m/s
You can zoom in on an specific area and change the dates so that you get more detailed info on a specific area.
Link to the official release Google Play store: Rák – Apps i Google Play
Link to a forked release, with greater accuracy: https://fiskaaling.github.io/rak/
Apple users will have to search in the app store
---
If you have any questions or comments please contact us